Over 17 African heads of state and governments on Thursday, July 27, converged in St Petersburg, Russia for the second Russia – Africa Summit with President Vladimir Putin as the host.
Under the theme "For Peace, Security and Development", the conference aimed at strengthening strategic partnership and expanding economic cooperation between Moscow and Africa amid heightened sanctions against Russia.
Among the African leaders present at the Russia – Africa Summit included South Africa's Cyril Ramaphosa, Egypt's Abdel Fattah, Yoweri Museveni of Uganda and Emmerson Mnagangwa of Zimbabwe.
Also Read: South Africa's Business Confidence Index falls for Fifth Successive Quarter
In his opening remarks, President Putin said that the meeting signifies the willingness from both sides to deepen mutually beneficial ties.
 "This is also testimony to our real willingness and our joint determination to propel relations between Russia and African countries to renew advanced level in politics, security, economy and the social sphere," Putin remarked.
Putin's commitment during Russia – Africa Summit
Coming against the backdrop of anticipated food crisis occasioned by Russia's withdrawal from the Black Sea grain deal, politics of wheat export formed part of the day's agenda with President Putin committing to supplying select African countries with up to 50,000 tonnes of free wheat
What's more, African countries sought to use the summit to boost bilateral trade volumes with Russia. 
Uganda's President Museveni in a meeting with his Russian counterpart made a proposal where investors in the future would support value addition of agricultural produce in Uganda instead of exporting raw materials with little benefit to the farmers.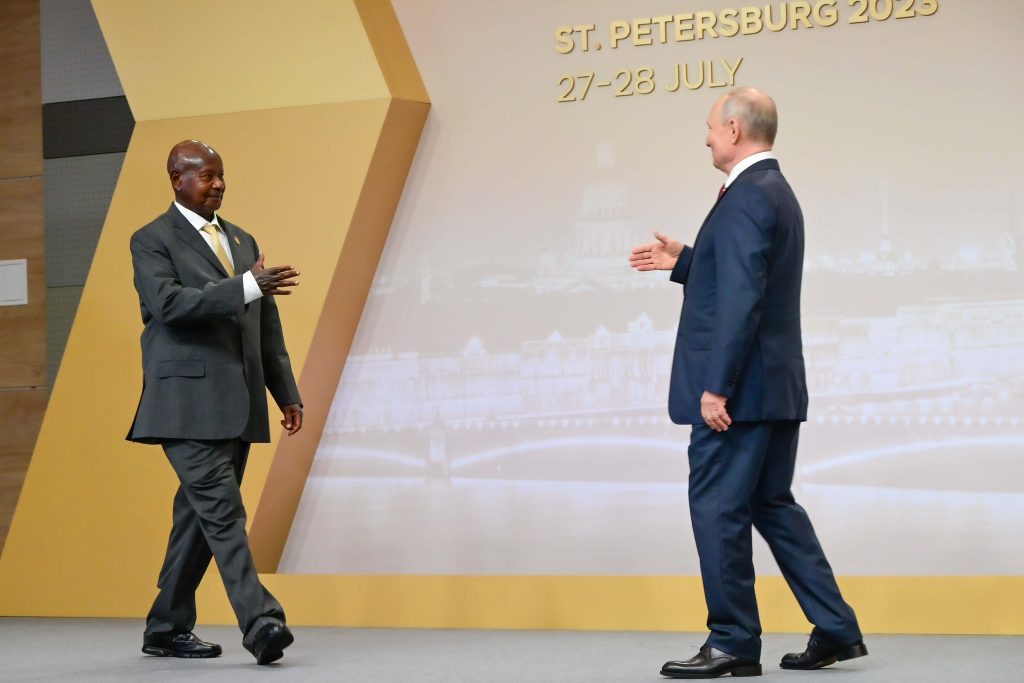 "My main proposition to Russia is that they discourage, by policy, the importation of raw materials from Africa and instead work with Africans to add value to their raw materials at source," Museveni stated.
Addressing delegates on Friday, the Ugandan Head of State singled out coffee farming noting that African countries earn $2.5 billion out of the total value of the world coffee business despite being a leader in coffee production.
"Germany earns USD6.85bn  from  coffee–more  than  all  the African coffee producing countries. This is part of modern slavery. What is causing this?" Museveni posed a question to the attendees.
"This is the hemorrhage that  has  stunted Africa's growth."
Ramaphosa roots for cooperation
On his part, South Africa's President Ramaphosa described the conference as an opportunity for Africa to enhance international cooperation for development.
Also Read: List of 10 Emerging Technologies in 2023 – World Economic Forum Report
Ramaphosa rallied parties present to take advantage of the African Continental Free Trade Area to achieve mutual benefit in international trade.
"The African Continental Free Trade Area, once fully operational, will unlock the benefits of the continental market and generate mutually beneficial opportunities for both African and BRICS countries," he stated.
Energy Cooperation 
Matters of energy in Africa also formed part of the Russia – Africa Summit agenda in St Petersburg.
In a statement, Alexey Likhachev- the CEO of Russia's Nuclear Corporation (Rosatom) affirmed that Moscow was willing to help Africa in efforts to step up power generation including the possibility of tapping into nuclear energy.
Likhachev noted that there is an existing imbalance in terms of Africa's capacity to generate power compared to the requirements driven by the continent's large population.
"We are sure that there will be a very active demand for nuclear technologies from African countries," Likhachev noted.
Other key issues that featured the meeting included avenues for technological cooperation in sectors such as mining, financial security and logistics.
In a meeting with President Putin, Uganda's President Museveni invited Russia to take part in the East Africa pipeline project which is designed to connect his country to the coast of Tanzania.
The project, Museveni noted, would not only help Uganda in exploiting its oil but also the neighboring countries of South Sudan and Democratic Republic of Congo.
The St Petersburg Summit was the second major engagement between Russia and Africa's heads of state after the inaugural meeting in Sochi in 2019.
However, the 2023 Summit witnessed a lower turn out of African leaders compared to the first with President Putin blaming the situation on interference from the West.