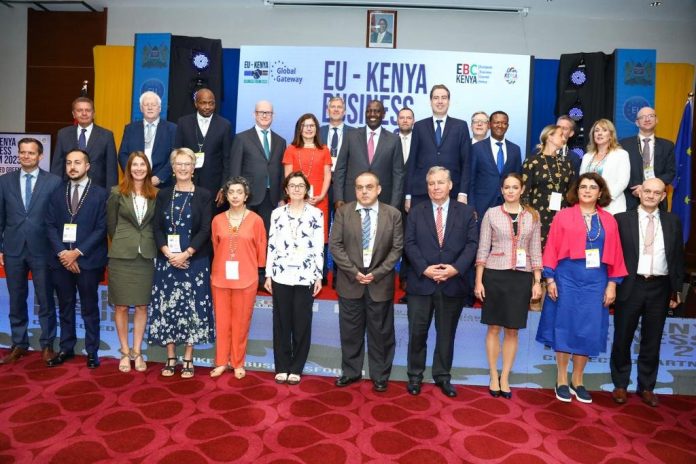 Nairobi played host to the EU-Kenya Business Forum 2023 on Tuesday, when Kenya and European nations sought to foster trade and investment by highlighting economic opportunities and potential.
The forum marked the significant development in the field of trade in what Kenya's President William Ruto – present at the forum said "was the culmination of the determined effort under bilateral strategic dialogue."
PROPARCO, which provides funding and support to both businesses and financial institutions in Africa, Asia, Latin America and the Middle-East, has already signed three Memorandum of Understandings (MoU) to invest in Kenyan companies working in clean energy and corporate management.
"It reflects a new partnership that we have established together based on common values and collective actions for inclusive development," said France's Foreign Minister for Foreign Trade, Economic Attractiveness in French Nationals Abroad – Olivier Becht.
European Investment Bank (EIB) Vice President Kettel Thomsen, who is on a five-day business tour in East Africa, also said the bank will be signing € 1 billion (Ksh.143 billion) worth of new investments for local businesses in Kenya and Tanzania.
The billion dollar deal is through a partnership with Trade and Development Bank (TDB) in which the lender's President Admassau Kaddese said would be EU's largest ever business financing corporation in East Africa.
"The deal is expected to enhance access to finance by African companies affected by trade disruptions, pandemics and recently energy price shocks triggered by Russia's invasion of Ukraine," said Kettel.
Today, the EU is the largest export destination for Kenyan products and its third source of imports.
These products include flowers and agricultural products and in exchange, Kenya imports a wide range of manufacturing goods from Europeans.
The EU accounted for $1.3 billion (Ksh.170 billion) of Kenyan exports in the year 2021 and accounted for 16.5 percent of Kenya's total import bill the same year – equivalent to $2.8 billion (Ksh.355 billion), representing 14.8 percent increase from a year earlier.
"It is only reasonable that as business partners on such a scale, we should be engaging more and engaging all the time," said President Ruto.
Despite the bilateral effort, the overall trade value potential between the EU and Kenya is estimated to be over € 500M (Ksh.67.2 billion) more per year than the actual trade value.
The union's investment jumped to more than 30 percent of Kenya's total Foreign Direct Investment (FDI) stock from 27.3 percent in 2018.
According to data by the Kenya National Bureau of Statistics (KNBS), EU investors have centred their investments in key areas such as Information and Communication, wholesale and retail trade and Manufacturing Sectors with the stock of FDI held in these sectors jointly valued at $3.4 billion (Ksh.435.7 billion).
President Ruto called on the EU nations to unlock barriers for agricultural products which are subjected to product and market specific restrictions such as low technological capacity that have hindered productivity.
"Continued consultations and collaborations can unlock the barriers for stronger trade relations and investment opportunities."
Kenya's Trade Cabinet Secretary Moses Kuria rallied EU investors to leverage Africa Continental Free Trade Area (AfCFTA) to uplift the livelihood of millions of Africans.
He, however, took issue with the EU for favouring least developed states to Kenya who have enjoyed free trade markets with the former.
"Some of our neighbours and partners have continued to enjoy free market access to your countries. Is it right, is it moral for Kenya to continue suffering because we are a middle income country?" posed Kuria.
Upcoming Investment Forums
Kenya is expected to play host to three key events starting April this year when trade ministers, Africa's top 100 companies and private sector on the continent will convene in Nairobi to develop the implementation matrix of AfCFTA.
Later in July, alongside the mid-year AU summit, Nairobi will host the Kenya International Investment Conference (KIIC) when President Ruto is expected to hold the summit on climate change in Africa.